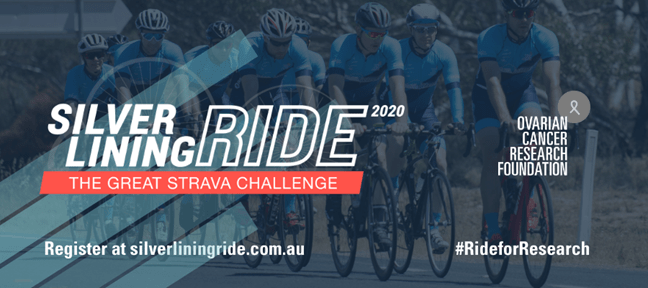 Silver Lining Ride – 1,068km starts 14th November
Not only does the team at Collective On Demand love riding bikes, but we love to also love supporting others to get fit and feel great whilst riding or training on a bike.  
When we heard about the initiative of the Silver Lining Ride and their fundraising activities in support of Ovarian Cancer Research Foundation (OCRF) to fund research into reducing the lethal threat of ovarian cancer today and strive for complete eradication of ovarian cancer in the future, we wanted to help.
Collective On Demand has and continues to support other worthy cycling and fundraising initiatives including the Amy Gillett Foundation and Tour De Cure, so it is logical we choose to support the 2020 Virtual Silver Lining Ride.
For those who need a little more inspiration to get the "job done" we have created On Demand Audio indoor Cycling/Spin classes. 
We have made it really easy to do it, just pick a session, log into the On Demand site on your device, choose your class, press play and get riding.
The sessions are based on Rate of Perceived Effort ( from a 1-10 scale) so you can use a spin bike, your wind trainer at home, or in the gym. Anyone can do it!
You have access to 3 x sessions new sessions each week, from t November 14th – December 14th
The shorter sessions are HIIT and are 15- 30 minutes long and are designed to improve anaerobic energy to improve Speed and Power
The other session is called SWEAT and is 40 – 60 mins minutes long and are designed to improve  your cardiovascular fitness, endurance and Strength
After competing both of  these sessions each week, you will have successfully ridden approx. 128km.
Sign Up is easy just click this link and you're done